As an Amazon Associate I earn from qualifying purchases.


It is no secret that I'm on my way to a healthier me in 2013. I've been blogging weekly about my success on Medifast. Of course it is just the beginning. Fourteen days into the New Year and I'm still going strong. However with me things have to been fun and have some variety for me to continue.
For this reason I rarely do the same exercise or even create an exercise schedule. I'm much better and just doing what I feel like that day. Of course that would imply I'm exercising LOL. So lets forget about the exercise right now and let me introduce you to two additional tools I've received to help get me healthy!
Cuisinart – Compact Juice Extractor
I've very excited about trying out this fun gadget. A couple months ago I had posed a few questions about juicing. I even did some research on it but at the end of the day I didn't do much of anything. The reason was from everything I read you really needed a juicer in order to really get the juice. Viola! problem solved. I can't wait to get started and many of the other Best Buy Blogger Board Ambassadors have already been sharing recipes.
Product Features
One-touch operation
With blue LED offers simple use.
16-oz. juice pitcher
Collects plenty of juice and can be replaced for an uninterrupted flow.
Pulp container
Holds up to 40 oz. of pulp and is removable to make cleanup simple.
Food pusher
Fits snugly into the feed tube to guide fruits and vegetables for efficient juicing.
Large feed tube
Helps minimize prepping and precutting.
Flow spout
Manually adjusts to control the speed of the flow and prevent dripping.
Mesh filter and blade design
Grinds fruits and vegetables and separates pulp for productive juicing.
Safety bar
Must be locked over the cover for the juicer to engage allowing for safe operation.
BPA-free
For safe use.
In addition to the Cuisinart Juicer I also received a Fitbit Aria scale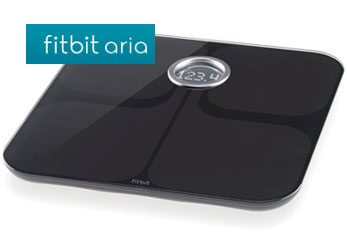 When trying to lose weight it is best to have a way to measure. To be honest I already have a Fitbit Aria, however I wanted to give it another try to see if my second experience would be a little better then my first. I absolutely love the concept of the scale which is that it wirelessly uploads your weight automatically to your Fitbit account. Both your weight and your body fat percentage.
Product Features
Measures your weight, body fat and body mass index (BMI)
To give you a comprehensive view of your health.
Bioimpedance analysis
Utilizes ITO electrodes that form a pattern on the top of the scale and send small signals through your body to measure impedance and calculate body mass.
Holds up to 8 personal profiles
So you and several members of your family can track fitness progress.
Backlit display
Provides a clear view of weight and other data measurements.
Wireless 802.11b/g/n capability
Allows simple connection to your home's wireless network. WEP/WPA/WPA2 personal security offers additional protection.
Wirelessly auto uploads your fitness data
To Fitbit Web site, so you can easily monitor your workout progress and utilize other online tools. Apple® iPhone® app allows you to access your data on a mobile device.Apple, the Apple logo and iTunes are trademarks of Apple Computer, Inc., registered in the U.S. and other countries. iPod is a trademark of Apple Computer, Inc.
Tempered-glass platform
Offers a stable place to stand and is durable enough to withstand frequent use.
Both of these in edition to helping me loss weight will be great additions to a fun challenge I've taken out with my fellow Best Buy girls. The #MillionSteps Challenge!
Best Buy is excited to have the nine members of our Blogging Board participating in a Million Steps Challenge in January. These bloggers are using health and fitness products, found at Best Buy, to keep track of their steps during the month of January with the goal of hitting 1,000,000 steps together by February 1st. To see how they're doing, follow @BestBuyWOLF or search #MillionSteps on Twitter. Make sure you post your steps, send them a word or encouragement, or grab a team of your own and see how many steps you can take in January. We're starting out 2013 with a New Year's Resolution to live healthy – please join us!
I would love to have you join us! Maybe grab a group of your own friends and set a similar goal.
Here are a few coupons to help you grab some tools to help you this year become a healthier YOU!

---
Disclaimer: The reviewer has received compensation for this post in the form of the reviewed product or a gift card. . All opinions are my own. You may read more of my disclosure here.
---