As an Amazon Associate I earn from qualifying purchases.


Goblins, ghosts, and ghouls Oh My! It is that time of year when the kids come out to play in scary, fun, and creative costumes. As a Halloween lover I couldn't resist some Halloween decorations and added a  scary cemetery to our landscape!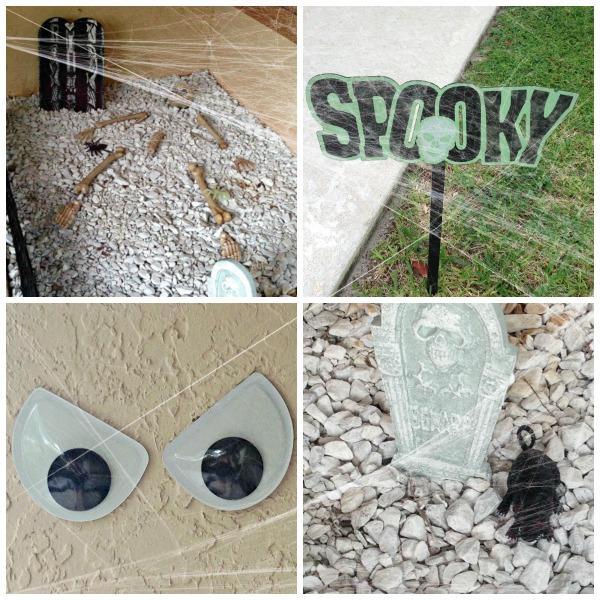 I figure each year I will add more until finally I can build up to a Shibley Haunted Mansion! Honey is all set for her "Scary" Halloween party with her Puttin' on the Ritz Halloween costume.
So we are all full of scary here! One thing that shouldn't be scary is your credit and planning for the holidays. As a blogger I am always thinking a head and am one holiday in front of everyone else. So while we celebrate Halloween I'm already thinking about Thanksgiving and Christmas. I've bought three Christmas presents so far and am already seeing the dollar signs in my mind float away as I make a mental list of things I need want.
This year I would like to buy a new Christmas tree, maybe some new decorations, we have presents for family and our traditional family dinner to plan for. All of these would be easy to throw on a credit card with the idea of paying for it later. However after years of working on getting out of debt and working on good credit I've learned that is now how you go about creating  financial stability.
Discover Financial Resources
You may want to pay cash for everything but that is just not logical. At some point in time you will need good credit whether it is to go to college, buy a car, or a home. I mean seriously I WISH I could pay cash for my home but that is just a dream. Often times building a financial future and thinking about your credit can be as scary as the upcoming holiday. Discover has a whole list resources for you so you can improve on your financial knowledge.
How to Build Good Credit
Pay off your charges in full at the end of the month. When you get a card, always pay off the balance in full when the statement arrives. Paying off your balance in full shows the card company that you're fiscally responsible.
Pay on time. One of the most important steps in building and maintaining a solid credit history is to pay all of your bills on time each month. That way, you're showing the lender or creditor that you've got enough cash flow to cover your expenses. If you pay late, it may damage your credit history, and lower your credit score.
Keep your total charges well within your credit limit. If you want to boost your credit history and credit score, you'll want to keep your total monthly charges well within your credit limit. Why? In calculating your credit score, you'll take a hit if your balance is above that limit because it signals to creditors that you may be having financial difficulties and thus are a riskier borrower. Discover provides FICO credit scores on all cardmember statements, which is pretty helpful to keep track of over time.
Regularly read your credit report. It may not be your favorite reading material, but negative information can damage your credit history and your credit score. Making sure your information is current and accurate will ensure that no clerical errors keep you from getting credit or best available terms on a loan.
Understand what debit cards can do for you. While they look like credit cards, debit cards actually function more like a checkbook or cash. They provide direct access to the cash in your bank account. So you can pay for items and services with a debit card instead of writing a check. What debit cards don't do is help you build your credit history because you're not using credit to buy these items.
Focus on what you want. Your credit history becomes critical when it's time to make those big purchases, like a home or a car. At that point, a one percent difference in the interest rate on a loan will either cost you or save you thousands of dollars over the life of the loan.
Credit history and knowing what yours is, is the key to working on financial stability. Don't be scared to get a credit card just learn how to use it wisely!