As an Amazon Associate I earn from qualifying purchases.


I'm not sure if all the states are experiencing this or not but here in Florida many driver's licenses expired this year. In the past in order to renew you could simply go online and and renew and a new one would be mailed to you. No standing in lines, or taking time off to renew. However in 2005 the REAL ID Act was passed and everything changed. Now to get a new license you must visit the tax collectors office and provide several forms identifications such as your birth certificate, SSN card, marriage license,  two proofs of residency, your DNA a blood sample (ok just kidding on the last two).
So anyway my license was to expire on 3-21-2011 my birthday.  No biggie I had a month to get it renewed I would just stop in one morning and renew it and be on my way.  Fast forward to 3-25-2011 my vacation day. CRAP! My license is expired. Ok no problem I will go down today and get it done no need to take time off.  Now for one month now I've known about this and what I needed.  I was sure I  had everything.  Guess what? NO BIRTH CERTIFICATE. I searched my house high and low, called my sister and my mother. NO LUCK!
Darn, Monday morning I go to work and call the county of my birth to order my birth certificate. My mother said it is $10 and they will send it out that day. Ok I'm already mad at myself that I waited to try to find my documents and now I'm getting a little worried that my license has expired.  So I call the county, another snag.  My birth certificate is not with the county mine is with the state due to the fact that my father is my adopted father. Ok I think no biggie I will call the state. Only one problem a certified copy of my birth certificate from the county is $45. UGH! So I order the certificate and wait.
Finally my certificate arrives this past Friday.  I'm going to go first thing Monday morning. Well I don't know about you but I get NO paper bills in the mail everything is electronic. So I sit down over the weekend to print out my proof of residency and wouldn't you know it? Out of INK! One more day I will print everything off at work.  Not too worried at this point we have an express driver's license office in our area.  I'll run by Tuesday morning and just come in a little late.
Do you see a pattern yet? Just this Monday April 4th that express driver's license office became a full fledged tax collector's office. Now they process everything.  I wait in line to get my number and soon after am sitting in the office. It is 8:34 ok no problem.  They are on number E109 and I have E123 but there are about 14 stations open. Thinking it will be a little but not too bad.  Then they start calling numbers E110, A101, H104, J120. Yep here I was thinking I was about 14 away from being legal and on to work, I let out a big sigh and call my husband and tell him that he needs to find his birth certificate, get the papers together and make an appointment. His doesn't expire until 12-31-2011 but you can never be to early, in fact I say renew it next month if you can!
When all was said and done I finished up at 10:22 and paid the $45 for the birth certificate plus $69.25 for the license because I had to pay a late fee since it expired.  All I can say folks is learn from my mistake and be prepared, get it all together and make an appointment a month before your license is going to expire.
Despite my morning, (oh I forgot to mention my phone ran out of battery so I also had no entertainment). I am now driving legally and don't have to go through this again  until 2019! I learned a lesson on what not to do next time, no use in wasting my money and my time by not being prepared!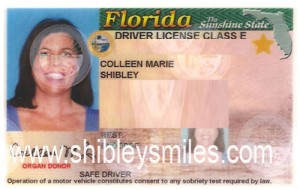 Oh  yeah I also forgot to mention while I was there, since it was the grand opening of the now FULL FLEDGED tax collector's office. There was a guy with a camera film everything. I have NO IDEA where this film is going to end up I just know he filmed my entire process from my answering the questions to getting my photo taken.