As an Amazon Associate I earn from qualifying purchases.



My husband and I were invited to the pre-screening of  Pirates of the Caribbean On Stranger Tides at the Muvico in City Place in West Palm Beach.  The pre-screening took place last night.  Note to self for future pre-screenings: get there at least 30-45 minutes early. Especially for such a highly anticipated and well liked movie.  Unfortunately for us we ended up in the second row of the theater.  I do don't recommend ever sitting that close to the movie screen if you can help it.  Though you really do feel like you are in the movie because it is just right there in front of you, I often found myself having to look right and left to capture the whole photo and my neck definitely was a little sore when we left.
The Pirates of the Caribbean in my opinion is one of the best movies to have pulled off a sequel after sequel so well.  Many times when movies try to do a sequel there is so much anticipation and expectations that it doesn't do nearly as well as one would think.  I don't feel that is the case with the Pirates of the Caribbean movies.  Each movie has been unique, fun, and adventurous.  The Pirates of the Caribbean On Stranger Tide did not disappoint, I found it to be just as good as the previous movies.
Without giving too much away Jack Sparrow (Johnny Depp)  and a mysterious woman from his past Angelica (Penelope Cruz) end up on the same quest to find the fountain of youth.  Entangled with Blackbeard and other previous characters like Captain Barbosa (Geoffry Rush) and Master Gibbs (Kevin McNally), Jack Sparrow sets sale for the search for the Fountain of Youth.  The movie is humorous as only a Johnny Depp movie could be and you will find mythical creatures such as mermaids. Just don't expect your thoughts of what a mermaid is to be realized in the movie, they have taken some liberties with the creature.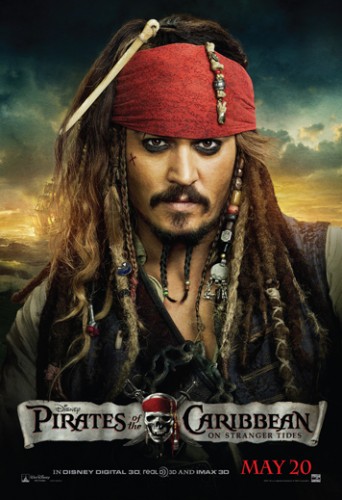 We were excited to be able to watch the movie in 3-D, it was my husbands' first 3-D experience and I believe he enjoyed it. I personally LOVE 3-D movies and enjoyed that part of it very much.  The two and a half our movie surprisingly went by pretty quick, the mark of a good movie.  Johnny Depp's humor in the oddest situations caused for many laughs from the audience as well as applause when it was over.
I highly recommend the movie and if you haven't seen the previous ones I recommend them as well.  Disney has done a wonderful job of bringing these tales to the screen and in my opinion there could never be another Jack Sparrow like the one that Johnny Depp has created.  You can't help but root for him and love him.  He almost appears as a little boy who is fumbling his way through life and always manages to come through with flying colors.