Schools back in session but that doesn't mean all the learning has to take place in the classroom. In fact don't let your children have all the fun at school. Encourage them to learn the fun way at home with one of these three fun kits from Giddyup.com


My First Backyard Explorer Kit

You don't have to travel very far to become an explorer. There are all sorts of exciting creatures and things to discover right in your own backyard or nearby park. All you have to do is step outside! Get up close and personal with nature—as seen through a microscope. Build a birdfeeder and worm motel. There's no limit to the adventures you'll have and the fascinating things you'll learn about the world around you from the Backyard Explorer kit.
Ice Cream Science

Best Of All, Your T-shirt Stays Spotless! This is definitely COOL CHEMISTRY! A unique kit that uses your T-shirt as the ice cream machine. It's a totally new way to churn your favorite flavors into a yummy ice cream treat. Just put all the ingredients in the container, slip it in a T-shirt, start twirling, and voila – perfect ice cream every time! Kids invent their own secret recipes with flavors and colors. Science experiments investigate why rock salt is used in making ice cream (to create super cooled water), how the size of ice crystals makes ice cream gritty or smooth, and how air adds fluff to the mixture. Learn about solids, liquids, and gases. Created with the ice cream experts at UC Berkeley GEMS.


Meteor Rocket Kit

Patented, High Performance Baking Soda & Vinegar Powered Rockets. There's nothing else like them! Blast off! The revolutionary Meteor Rocket with its patented baking soda fueling system has thrilled thousands upon thousands of kids across the world. Winner of many awards, this unique rocket is an adventure unlike any other. Unforgettable Science! The Meteor is a science experience kids will never forget. Go for a new altitude record by varying the proportions of baking soda and vinegar, try balsamic vinegar to see if it gives an extra "kick" to the fuel, change the fuselage length to test flight characteristics. Chemistry and physics will never be the same! The Power Secret Our baking soda and vinegar formula starts a chemical reaction inside the patented fueling module, creating enormous power that blasts the Meteor over 100 feet into the sky. 20 inches tall!


The kids and I had a great time trying out each of these kits. I let the kids loose in the yard with the Backyard Explorer Kit. They didn't have a whole lot to say about it. According to them our ground is hard and not a great place to dig. They did have fun trying to catch bugs.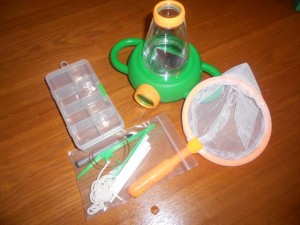 My daughter was excited about giving the Ice Cream Kit a try. We broke it out one night and started the steps. She decided she wanted to make yellow colored strawberry flavored ice cream.
The kids favorite part of course was shaking up the ice cream. We took a little video of all the fun.
Overall the experiment was definitely a fun one. I think we didn't close the ice cream bag tight enough and some salt (that you mix with the ice) crept into the ice cream. However when we do it again we will be sure to make sure our bag is tightly sealed.  Honey loved being able to chose her flavor and color and taste testing at each stage to make sure it was sweet enough.
Our recommendation however is the Meteor Kit. This kit takes a little bit of adult preparation or an older child but this one worked like a charm. At least the first time it did. We had a hard time re-creating the effect. However I think some of it has to do with cleaning out the tube and rocket so that everything is fresh.  This is your basic vinegar and baking soda type of experiment. My camera man was so shocked by the rocket taking off that you only get a quick glimpse of it and then see nothing but grass, before he "had to run away".  We were very impressed with how high the rocket soared.
Shibley Smiles Review Opinions:
Price (of tops): Range from $10.98-$15.96 we find these prices to be excellent. For the experience these are low and definitely worth the money (especially the rocket)
Quality: We rate the quality as above average, the experiments will last for quite a few times. The ice cream kit gives you enough to make several helpings. The backyard explorer kit can be used time and time again and the rocket, as long as it does not break during it's flight down can be used over again as well.
Recommendation: We recommend these kits as a fun way to interact with your children and educate them at the same time. We highly recommend the rocket kit.
OUTDOOR SCIENCE DAY KIT GIVEAWAY

One winner will win their choice of these three science kits
Mandatory entry to win: Which kit do you think sounds the most interesting? (leave a comment with your answer as your mandatory entry)
After you make the mandatory entry above, you will receive one entry for each item below (unless otherwise indicated). Please leave a separate comment for each entry.
*if you follow us via GFC, Facebook , RSS Feed, Network Blogs or verified email – 1 each
*if you follow Shibley Smiles and SciExplorer on Twitter – 1 each
*if you follow Scientific Explorer on  YouTube – 1 each
*if you share this post on Facebook – (enter limit 1)
*if you blog about this post and link back to this giveaway -5 entries
*if you leave a comment on a non-giveaway post -1 each (max 5 )
*if you tweet this giveaway (leave link to tweet) – 1 daily
Enter to #win a fun Outdoor Science Day Kit  from @sciexplorer and  @shibleysmiles https://www.shibleysmiles.com/?p=7743
See Official Rules. Giveaway will end on September 10th at 11:59 pm EST. Open to US Only.
Thank you and Good Luck!
---
Disclaimer: I received similar product(s) at no cost to me by the company or representing PR agency. Giveaway prize is also sponsored by the company or representing PR agency. Opinions are my own and NOT influenced by monetary compensation. You may read more of my disclosure here.
---