A little while ago I did a review for Pawparazzi Pets.  I'm excited to bring you an additional item for your Pawparazzi that  your child will love.  It is the Pawparazzi Hotel and it is the perfect hangout for your Pawparazzi. Honey was very excited when her hotel arrived and promptly spread it out and began to play with it with Karma and Salsa, her two Pawparazzi.
Honey had a great time with her new pet Salsa lounging around the hotel.  When told she could bring a toy with her on our trip to Orlando she decided to bring her Pawparazzi hotel.  The hotel folds up into a carry case so it is very portable.
When you are ready to play you simply open it, unfold both of the sides and viola! You have your Pawparazzi hotel!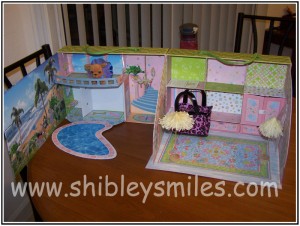 The hotel has its own room with pull out drawers and a closet that opens and clothes for all the cute little outfits. I mean every Paparazzi needs to have a slew of different outfits, have to make a fashion statement. The hotel comes equipped with it's own pool and indoor balcony. Not to mention a cute little swinging chandelier.  Honey  has a special place for each outfit and each pet.
Each Pawparazzi comes with their own outfit and a cute little purse to tote them around just like the stars do with their own dogs.  Previously Honey reviewed Karma, this time she got a chance to review Salsa.
Honey really loves the little pets and wants to collect them all. She loves how you can change outfits and she really enjoys now having a place to not only store her Pawparazzi but a place to play with them as well.  This is definitely a toy she has come back to play with over and over again.  She took it to school one day for show and tell.  She loves to take her fun items she gets to help me review because they are unique and not everyone has them.  My daughter is a walking advertisement!
You can purchase all the items my daughter reviewed at Amazon:
Hotel Pawparazzi Pets Carrying Case and Play Set

Pawparazzi Pets Salsa Latina Singing Sensation

Pawparazzi Pets Day At the Spa Dress up Set By Noodle Head
---
Disclaimer: I received the above product(s) free of cost to me by the company or representing PR agency.  Opinions are my own and NOT influenced by monetary compensation.  You may read more of my disclosure here.
---