As an Amazon Associate I earn from qualifying purchases.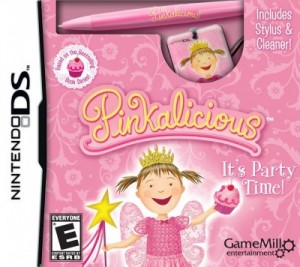 My daughter was super excited Friday when the mail arrived and her review copy of the newly released Pinkalicious: It's Party Time! for Nintendo DS arrived in the beloved mailbox.  She absolutely loved the pink stylus that comes with the game.  Now if I can just get her to stop biting on the end we would be all set.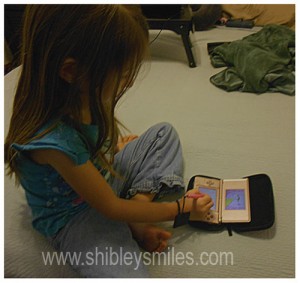 Honey told me that I could tell everyone on my blog that she "LOVED Pinkalicious".  She played the game all weekend long. It really came in handy on our trip down to the Mets game.  With a 45 minute drive it was great to have a new game to help entertain her.  Her favorite part of the game right now is making the cupcakes.
In Pinkalicious, It's Party Time, players are able to interact with the much adored character, Pinkalicious, and explore the pinkeriffic stores of Pinkville. Players are able to choose and customize their own personal avatar in this interactive gameplay, allowing their character to fulfill the task of planning the most pinkerrific parties. Players will get to make the party treats, create their own pink outfit and put together pink party bags for all of their guests. Pinkalicious, It's Party Time, will keep the player captivated with endless customization and pinkerrific activities.
Between Pinkalicious and another upcoming game review this has been a hit at our house.  It is great to see Honey enjoying her DS again. It seems when the kids get a game they eventually become bored with it and are ready for a new challenge.
At the age of 5 Honey was able to pick up this game on her own. She did not ask me how to play or what to do. So our opinion is the game is fun, cute, and definitely age appropriate for a 5 year old little girl. (I won't mention that the boys also played with her)
Minneapolis, MN – March 30, 2011 – GameMill Entertainment is pleased to announce that Pinkalicious, It's Party Time is available now for the Nintendo DS™ family of handheld systems. Based on the New York Times best-selling children's book, Pinkalicious, It's Party Time allows players to create the perfect parties in the beloved town of Pinkville. To celebrate the launch of the game, GameMill will offer a Pinkalicious stylus and cleaner bundle limited time offer. Pick up the bundled Pinkalicious and stylus bundle here before it is too late!
---
Disclaimer: I received the above product(s) at no cost to me by the company or representing PR agency. Opinions are my own and NOT influenced by monetary compensation. You may read more of my disclosure here.
---