As an Amazon Associate I earn from qualifying purchases.


I had a great weekend! After my blog about "How to Connect With Your Children" I decided I was going to keep that in the forefront of my mind when dealing with my family this weekend.  I really think because of this very thought I had a relaxing and fun weekend.
Saturday we got up early so we could drive down to my nephew's t-ball game.  He had asked us a couple weeks before if we would come see one of his games.  This weekend was perfect because the boys had no games this week or next due to spring break.  The team was so cute, each child got to hit the ball and all of the kids would run to the ball to see who could get it first. Sometimes they would remember to throw it to first and other times they were excited to have gotten the ball.
After the game my sister and her family treated us to breakfast at iHop.  It was great to spend a little time together as the kids talked, played games, colored, and enjoyed some balloon animals.  We made plans to join my sister for the St. Patrick's Day Parade in Delray Beach. I have photos and more to post on that later.  My sister took Honey and Buddy home with her and we met her up later with Nick.  It was a great day full of family.
Sunday I spent a lot of time with Honey.  Adhering to my thoughts of trying to connect with her I did pretty much all that she asked.  The boys made themselves scarce and stayed outside all day.  It actually started Saturday evening when I laid in bed with Honey and watched Spirit of the Forest with her. Then Sunday was "Puzzle Mania" she wanted to do puzzles. We did quite a few before I told her these were not challenging so we got dressed and drove down to Walgreens to pick up a more complicated puzzle.  I guess I still underestimated her skills because it took her about 30 minutes to do a 100 piece puzzle by herself (after we did it once together). I really think she is ready for the next level.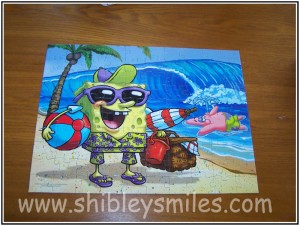 However one of the highlights of the weekend was Honey's surprise picnic for everyone. She spent a good hour in her room, apron and all, preparing her picnic food for the family. She laid everything out very neatly on our dining room table.
Then when we were all done eating we went to the dining room to participate in this special event.  She said we each had to find our name on the pieces of paper to see where we were to sit.  My husband is "Dad" and I'm "Colleen" she never writes "Mom" when she writes my name it is always "Colleen".  She then proceeded to pass out our food and pour our drinks. Our choices were tea, milk, or chocolate milk.
[youtube]o82yp6uh6m0[/youtube]
I was proud of Nick as he participated and pretended along side the rest of us. At the end of the picnic Honey surprised me with her Homemade banana split and whispered (pretend it is your birthday today). I excused myself to go to the rest room and took a dollar out of my purse and passed it to my hubby so he could "pay the bill". Once she realized money was involved she went from guest to guest and told them they needed to pay with REAL money. Thankfully we convinced her that signing her paper like a credit card was as good as cash.
Over all the weekend was FANTASTIC, spending time with my family always makes me feel relaxed and full of joy. I highly recommend taking a weekend and giving in to your children!
Hope yours went as well!