As an Amazon Associate I earn from qualifying purchases.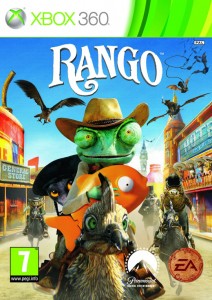 My boys went with a friend to see the movie Rango and they loved it, so when I asked if they wanted to review a copy of Rango for XBox there was no hesitation.  It seems the norm now of days for major movies to have games released soon after, personally it is a brilliant way to capture the movie in a way that the children can continue to enjoy long after leaving the theater.
As with most video games the key is the different levels and your ability to complete them. Each level/stage of Rango is a different them in which you have to solve puzzles and collect secret items.  As you fight your way through the level you receive sheriff starts that you can use to make your character all cool and such.
The game is full of graphics and is loads of fun.  My boys are enjoying beating each level.  When they finish they usually go back and try to see if they missed anything.  Overall the game is a great asset to the movie and loads of fun.  It is geared towards a younger audience so the challenge of the levels is based on a younger mind set. Just something to keep in mind when you are purchasing the game.
Here is the game trailer for your viewing pleasure.
[youtube]V5NMmtncf4k[/youtube]
The town of Dirt could use some cleaning up — and it'll take one tough-scaled reptile to do the job. Rango is the newest sheriff in town, and this pint-sized cowboy has big-time courage under his cap. Patrolling the Wild West atop roadrunners and desert bats, the little lizard is ready for action — and it's action he'll encounter when aliens threaten abduction, rogue rodents are let loose and other wacky mishaps ensue. Can the sheriff shoot 'em up, brawl the bad guys and save the day?
SynopsisThe colorful, Wild West world from the hit movie springs to life in Rango for the Xbox 360. It's your turn to shine your spurs, blaze your guns and prove you have what it takes to wear the sheriff's badge as the lead lizard in this rowdy adventure. Play as Rango as you perform death-defying feats, race through the desert in wild chases and hone your shooting skills in an old-fashioned shoot-out. In a town full of colorful characters ranging from mariachi birds to wild rabbits, you're the right lizard to take your place in the sheriff's office and keep all of Dirt spic and span and free of trouble.
Key Features:
Blaze your guns in old-fashioned Wild West shootouts against hordes of hostile rodents
Meet gossipy mariachi birds, gangs of wild rabbits and more in the colorful town of Dirt
Live out the thrills and spills of the hilarious, action-packed new Wild West movie starring Johnny Depp and directed by Gore Verbinski
Patrol the old west town of Dirt as Rango, the pint-sized sheriff with a heroic sense of adventure and a big reputation to uphold
Play through the outlandish Tall Tales of Adventure and perform exhilarating feats to uncover a sinister alien plot that threatens to abduct the entire population of Dirt
Enjoy ridin', jumpin', brawlin' and shootin' your way across the rough and rowdy Wild West, and earn achievements for your successes
Speed across the desert sands atop roadrunners and desert bats in acrobatic chases
Hone your sheriff shooting skills in golden bullet sequences that promise to impress your Dirtonian admirers