Written By Staff Writer: Lisa
One of the most fun parts of becoming a new mom, again, is building a brand new wardrobe for the little one.
Before Jett was born, it had been five years since we had an itty bitty in the house, and the only things we had left from Hawk's babyhood were a couple of sentimental Astros tshirts and some cloth diapers and accessories!  Cloth diapers and sports tees are timeless, but you definitely know what I mean when I say that seasons change, and so do baby styles!!
I've had my eye on RuggedButts and RuffleButts since before Jett was born!  Because we didn't find out his gender until the moment he arrived, our plan, as far as clothing goes, was to stick with sports attire, green, yellow, and anything geeky!  Of course, we were very limited!  This company is awesome, because they have the most adorable graphics outfits for both boys and girls under two different sites!  If you're looking for boy stuff, you know to head over to RuggedButts, and if you're looking for girl stuff, RuffleButts is the site for you!
My favorite outfit to days is this one from RuggedButts:
The New Brown Mommy Monster Set consists of the following adorable pieces:
Brown Mommy Monster Crawler
Brown Mommy Monster Tee
Brown Mommy Monster Stretch Beanie
I love the vibrant colors of this set!  The fabric is a fantastically soft, high quality cotton that washes well and holds it's shape and graphic beautifully.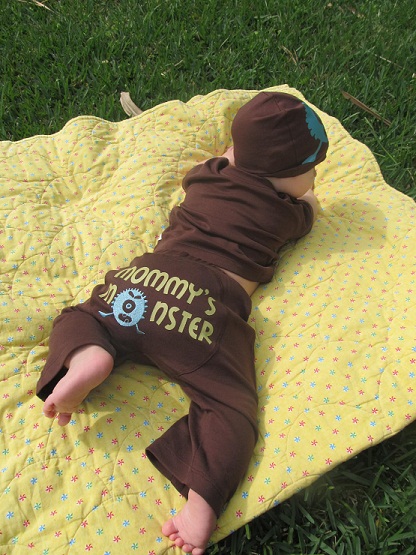 One of my favorite features of this set is that it is available in either a lap tee or onesie.  Onesies are great, but during the summer, when we're out and about, we often like to put our babies in just a tee and cloth diaper so that they are cooler and that we can show off the cute cloth diaper!  My next goal is to find an awesome little monster cloth diaper to go with this lap tee!
Please take a second to stop on over and check out RuggedButts on Facebook and for the girls RuffleButts this way you won't miss a thing!
Win a New RuggedButts Set!
RuggedButts has offered to allow us to host a giveaway of one of their new sets!  One lucky winner will win one of the following sets:
(Please note that if you choose the Mommy Monster set, you will receive a graphic beanie like the one my son is wearing in the photos.)
---
See Official Rules. Giveaway will end on April 18, 2012 at 11:59 pm EST. Open to US Only.
Thank you and Good Luck!
---
Disclaimer: I received the above product(s) at no cost to me by the company or representing PR agency. Opinions are my own and NOT influenced by monetary compensation. You may read more of my disclosure here.
---