UPDATED ADDITIONAL DAILY ENTRY

Tweet this Daily for one extra entry per day:

Enter to #WIN a Week's Family Vacation #giveaway http://bit.ly/j0N3PH
I am an iPhone fan, there is no doubt about that. I love my iPhone! During the Christmas holiday of 2009 Honey and I were doing some Christmas shopping and she often ask to play with my phone.  Sometimes I'm not sure who uses my phone more myself or my children.  This is a normal occurrence so I handed her the phone and she began playing a game while I browsed.
Honey saw something she liked and set the phone down on her lap and leaned over to point to what she wanted me to see. The phone slipped off her lap and managed to land just on the corner and sent several spider cracks through my screen.  I did NOT have my phone in a case and I was very upset with myself for not being more proactive.
For my birthday this past year in 2011 I purchased the new iPhone 4 . However this time with my purchase I told them I wanted the best iPhone Case they had.  The case they suggested was made by Speck. I was able to pick out one in a color I liked and was very pleased with the feel and look of it.
I recently had the chance to review two Speck iPhone 4 Cases, and a screen protector.  I love the screen protector because it cuts down on the fingerprints all over my screen.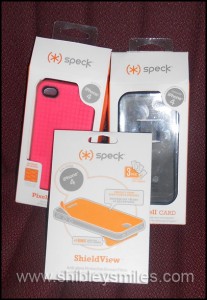 One of the iPhone cases I was able to review was the Candyshell Card for iPhone 4.  The concept behind this case I thought was interesting and definitely worth a try.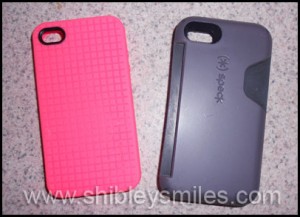 Quick Overview
Leave your wallet at home with this convenient and ingenious iPhone 4 card case! The CandyShell Card is a protective, one-piece iPhone case that lets you stash up to three credit-card-sized cards inside its built-in rubberized slot. Just slide your cards in to store them securely, and use the handy thumb release to access your cards when you need them!
I thought this was a perfect addition to your iPhone. When I go places that I don't want to carry my purse I always bring my phone, driver's license, credit card, and car keys.  I always get nervous that my driver's license and credit card is some how going to slip out of my pocket. I love that I can now put it in a safe place and have easy access.
I used this case for a good couple of weeks and I like the feel of it and it is sturdy and I feel that my phone is protected.  The only draw back for me is this phone seems to pick up my makeup more then my other case did. So I find that I'm constantly trying to clean off makeup off of one of the sides.  I think for me the best purpose of this iPhone case is to use it when I plan on going places that I don't want to take my purse.
I also had the chance to review the PixelSkin HD iPhone Case from Speck.  I do love the ability to dress up my phone according to my mood or even match it with my own fashion statement so having a few different cases is definitely pretty cool.  My overview of the PixelSkin HD iPhone Case is if you are going to purchase an iPhone case for the purpose of protecting your iPhone spend the extra money and purchase a Candyshell.  If you are looking to dress up your phone and aren't concerned as much about protection that a few of these in different colors is perfect for you.
The Candyshell Card case is more of a hard plastic with a lining of shock absorbing material inside and I feel that my phone is protected.  With the PixelSkin HD iPhone Case it is a little more flexible and not quite as durable and protective.  However I have found that when it comes to protecting your phone Speck iPhone Cases are top of the line and I recommend them fully.

2 winners will receive their choice of Speck iPhone 4 Case
***********Speck iPhone 4 Case – 2 winners***********
To enter to win: Please tell me what your favorite application on your iPhone is
After you make the mandatory entry above, you will receive one entry for each item below (unless otherwise indicated). Please leave a separate comment for each entry.
* if you "like" Speck on

Facebook

– 1 each

* if you comment on a non giveaway post – 1 entry for each comment limit of 5

*

if you tweet this giveaway (leave link to tweet) – 1 daily
#Win a Speck iPhone 4 Case from @speckproducts and @shibleysmiles #giveaway https://www.shibleysmiles.com/?p=4649
* if you tweet this daily (leave link to tweet) – 1 daily
Enter to #WIN a Week's Family Vacation #giveaway http://bit.ly/j0N3PH
See Official Rules. Giveaway will end on June 5th at 11:59 pm EST. Open to US Only.
Thank you and Good Luck!
---
Disclaimer: I received the above product(s) at no cost to me by the company or representing PR agency. Opinions are my own and NOT influenced by monetary compensation. You may read more of my disclosure here.
---