As an Amazon Associate I earn from qualifying purchases.


It seems every time I travel down the grocery isle I find packages with big bold words toting "Gluten Free". I see recipe after recipe on blogs, Pinterest, StumbleUpon and more that claim to be gluten free. So being the person that I am and needing to know everything about nothing and nothing about everything I decided to do a little research on what "gluten" was.
Gluten(from Latin gluten, "glue") is a protein composite found in foods processed from wheat and related grain species, including barley and rye. source: wikipedia
From what I've read there is a percentage of American's that are sensitive to gluten. Therefore the gluten free market was conceived. Udi's is just one brand of gluten free products. For the purpose of research and trying something new I decided to tackle the task of a gluten free meal using one Udi's product.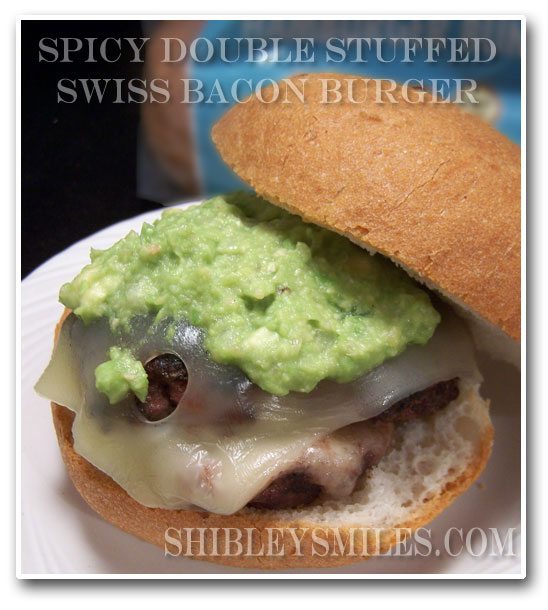 Spicy Double Stuffed Swiss Bacon Burger *Gluten Free
Ingredients:
1 lb Lean ground beef
3-4 slices Swiss cheese
3/4 cup Shredded Swiss cheese
1 tsp Black pepper
Bacon or Bacon bits
Udi's Gluten Free hamburger buns
Avocado
1 tsp Jalapeno
1 Tbsp Lime juice
1/4 cup Onion
1/4 cup Apple Cider Vinegar
1 tsp Minced garlic
1/4 tsp Salt
Directions:
Mix lean ground beef with pepper and bacon bits or bacon crumbles.
Create two thin beef patties
Place about 1/4 cup or less of Swiss cheese in the middle of one patty. Place the 2nd patty on top of the first (with the cheese in the middle), and pinch sides together to close hamburger
Do this for as many patties as you are able to make
Grill hamburgers
While hamburgers are grilling create the Avocado Salsamole to place on top. Click link for previously posted recipe.
Top burger with sliced Swiss cheese and salsamole and sandwich between a Udi's Gluten Free hamburger bun
I know this is a very easy gluten free recipe, the change is the bun. Let me tell you this burger turned out so yummy I didn't even notice the bun was gluten free. That to me is the mark of a great meal!
If you have a little talent in the kitchen then why don't you test your skills and see if you can't turn your mad cooking skills into an experience of a lifetime! Enter theUdi's Look Again It's Gluten Free Recipe Contest for a chance to win a trip for 2 to CA for a cooking class at Le Cordon Bleu!
Before you tackle your winning entry stop by the Udi's Gluten Free Living Community for some tips and great conversation about leading a gluten free life.
This is a chance to try something new, if not converting to gluten free than maybe cutting out some not so healthy items from your diet. I would love to know ONE new thing you have tried or want to try and what you enjoyed about it.
I loved combining new flavors and gluten free ingredients to create this delicious recipe. Now I'm curious to know, what do you enjoy most about trying something new?
For your chance to win a $350 William Sonoma gift card to purchase a Kitchen Aid Mixer or other gluten free cooking tool of your choice, complete these two steps:
1. Share the Udi's Look Again, It's Gluten Free Recipe Contest with your friends (be sure to include a direct link to your social media post)
2. Tell us that you've invited your friends to enter the Look Again, It's Gluten Free Recipe Contest AND tell us what you enjoy most about trying something new below
This is a sponsored conversation written by me on behalf of Udi's Gluten Free. The opinions and text are all mine. Official BlogFrog Sweepstakes Rules.