As an Amazon Associate I earn from qualifying purchases.


Our Saturdays are often filled with nothing but sports. That's what happens when you have two boys playing baseball and soccer. This Saturday however was filled even more so with sports as we attended the opening day weekend at Sun Life Stadium.
We started the morning off at 9am with Buddy's soccer game.  This year has not been a great season for his soccer team not having won even one game. Saturday morning however the game ended 2-2.  My son was happy that at least this time they didn't lose. His spirits are still high and is confident that this coming Saturday, his last game, they are going to win.
Nick's, or Lefty as his team calls him, game was at 10:30.  So we packed up and left Buddy's game to head on over to the baseball fields.  Considering our last game that ended 19-2 with us on the wrong side of that score it wasn't going to take much to have a better game.  However let me just say all the kids were definitely out to win this game and the final score was 17-4, this time we were on the winning side.  The game was great. Nick did much better in regards to hitting this game.  He was up 4 times and hit the ball 3 of them with only one strike out. He crossed home plate twice and was his normal excellent self on 1st base.
After both of the games we all went home while hubby had a job interview, it seemed to go really well and we are keeping our fingers crossed to hear something today or tomorrow. This would be a huge blessing for us as he has not been working since the beginning of March.
I had to get some rest because I was plum exhausted, too many late nights at the computer finally caught up with me Saturday.  After a little rest and relaxation and some lunch we headed down to the baseball game around 4:00.  Here is the family all decked out and ready for the game, well at least three of us are showing our support.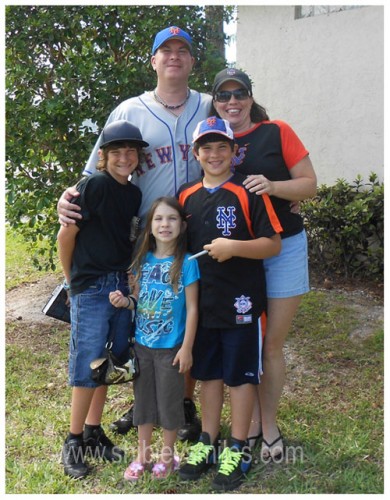 We got a great parking space and then unfortunately for the kids had to wait in line for a good 45 minutes are so in the pretty darn hot sun until they opened the gates. However once in the stadium the breeze and atmosphere was just heaven. It was a perfect night for a baseball game!
When we got there the Mets were on the field warming up. Nick waited with the rest of the fans hoping to get some autographs but he was not so lucky in that endeavor.  He did enjoy watching professional baseball players warm up and wished he could run out there and help in anyway possible. I tried to get a few photos of his favorite baseball player, Carlos Beltran. This was the best one I managed to get which he was excited to also see Jose Reyes in it as well.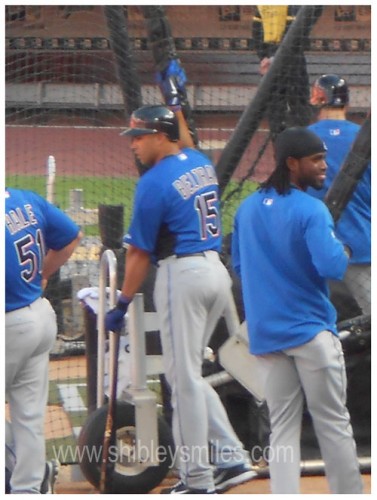 I have to say that watching my son play baseball has really given me an appreciation of the game and I truly enjoyed watching it and watching it live.  It was such fun to see my son excited and cheering with the rest of the fans. In fact I think I have a sore throat today from screaming.  My oldest son who isn't so much a sports fan got into it too and seemed to really enjoy himself, or maybe it was the bottomless soda we paid $11 dollars for that he continued to get refills 3 or 4 times that was exciting to him.  When I asked the boys to look at me for a photo this is what I got, I promised my son that I would proudly display is goofiness on my blog.
Honey was bored a lot during the game and took to entertaining herself by annoying Buddy. However as the game began to end and the excitement began to build it was infectious and even Honey was getting excited and dancing to the spurts of music.
We could not have chosen a better game to attend. The score at the bottom of the 9th inning was Mets 3 Marlins 2. I told Honey if the Marlins didn't score the game was over, if they did depending on how many runs they scored it could go into extra innings.  Sure enough the Marlins scored one run.  That meant an extra inning.  The crowd was on their feet for most of that last inning fighting between chants of  "Go Marlins" and "Go Mets" it is not often I'm sure that a visiting team can go so much support at another stadium but I have to see the Mets were well represented at the game.
The final score was 6-4 Mets.  It was an intense last inning but was so exciting and so much fun I wish we had season tickets, however they would have to be in New York which would be a long commute. Overall the day was a success and exciting one on so many levels. Family entertainment is very under rated and is priceless. It is one area that I wish I was able to spend more money on. It was a great experience.