As an Amazon Associate I earn from qualifying purchases.


Do you just love my St Patrick's Day Wishes? This leprechaun was the hit of the St. Patrick's Day Parade we attended this past Saturday.  I thought he was a perfect to wish everyone a Happy St. Patric's Day.  If  you noticed I'm a little fanatically about the holidays and I dress both myself and Shibley Smiles to honor each one.
Saturday the kids and I joined my sister and her family for the 43rd Delray Beach Parade.  Though my brother-in-law and nephew go each year this was a first for both my sister (who is usually working) and my family.  The kids had a good time. The weather was perfect.  We decked out for the parade. Here is my two goofy and lovable boys!
My sister took Buddy and Honey to the store to pick out some St. Patty's Day attire. Buddy knew his brother very well and picked out that white, orange, and green beenie that he has been wearing everyday.  Honey had a great view of the parade.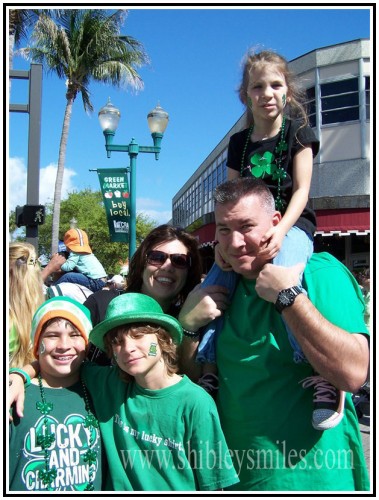 We got to the parade a little late so it wasn't until closer to the end that the kids were able to get close enough to catch beads and candy.  We had a little mishap with a crotchety old woman who upset Honey, though she won't tell me what happened. From what I could see the kids went to sit down on the street and I'm assuming Honey either touched her umbrella or maybe stepped on the ladies toe. I saw her turn around and apologize twice.  Then I saw her staring at the woman then she got up and ran to me and started bawling.  Shortly after the lady left.  Other then this incident the kids had fun!
Are you wearing green today? If not then this is for you!