As an Amazon Associate I earn from qualifying purchases.


Sun, fun, and family! That signifies that summer is in full swing. We have had a lot of adventures this summer from our trip to Aquatica, to our Carnival Cruise. We spent some time indoors bowling and play games. In fact my daughter and I surprised the boys with a game of family Bingo! During our stay in Miami before our cruise Honey and I put together a Bingo game, prizes included. We bought some prizes at the dollar store and wrapped them up. Then when pulled out the Bingo game and the winner got to chose a wrapped prize. It definitely made the game fun!
Of course when the sun is shining it is hard to stay inside. So what do you do in South Florida? You get wet! The family got together and enjoyed some fun in the sand and water at a private beach. We played paddle ball, football, I even got to close my eyes a few times with extra adults to watch the kids. The kids enjoyed some fun in water slides and swimming.
With all this fun there is one thing missing. Can you figure out what it is? Food of course! With all these good times, water parks, beaches, bowling, and family games nothing brings family together like food. I've probably mentioned a time or too that cooking is not my forte. So for our impromptu family get togethers there is one thing that I can always bring or make that puts a smile on everyone's face, Hebrew National Beef Franks in a Blanket. What kid doesn't love something so yummy?
Hebrew National tastes great because, for more than 100 years, we've adhered to the highest quality standards. Hebrew National Franks are made with premium cuts of 100% pure kosher beef, and contain no artificial flavors, no artificial colors, no by-products, and no fillers. Premium taste and high quality every time, for any occasion. That's our guarantee. Learn about even more reasons to love Hebrew National, and tell us why you love them, too! www.facebook.com/HebrewNational
One of the reasons we love Hebrew National is because they are 100% beef with no fillers or by-products and no artificial flavors or colors. Hebrew National wants to know why you love their all-beef franks. Tell them on the Hebrew National Facebook page for a chance to win a pack Hebrew National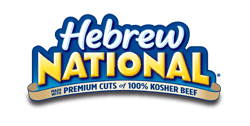 What is your favorite "Summer" food?
---
Compensation was provided by Hebrew National via Glam Media. The opinions expressed herein are those of the author and are not indicative of the opinions or positions of Hebrew National. You may read more of my disclosure here.
---