Tea Collection specializes in unique children's clothing.  I was recently given the opportunity to review a few pieces of the collection. Well, Honey is the one that will be doing the reviewing, she looks much better in the outfits then me.  We placed our order when the "winter" collection was in full force. I have to say after browsing the site today I really prefer the "spring" collection they have released.  Maybe it is because I'm a FL gal and love the airy feel to the spring collection.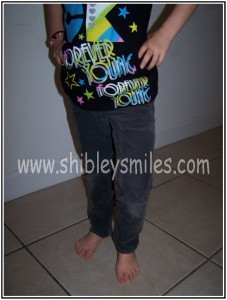 Honey and I spent quite some time browsing the collection back in December/January trying to decide what she would like to review.  Honestly she had a hard time because the girl DOES NOT do long sleeves and many of the items were long sleeve at the time.  She chose two items, a pair of jeans and a top.  It took me a couple of days to place the order and by the time I did the top was no longer in stock. So we went back to the drawing board browsing once again the girl's clothing and decided and quickly placed the order for a pair of black jeans and a dress.  Little did I know Honey had been wanting a black pair of jeans.
The clothing arrived pretty quickly and Honey was quite excited.  She loves when the mailman rings that doorbell hoping the package that arrives if for her.  She LOVED the jeans and usually wears them once a week.  They fit perfectly. I made sure when I ordered them that they had the adjustable waist band. Both her and her brother tend to be a little lanky and I need to purchase a larger size for their height but with skinny waists I need to be able to bring in the waistline a little.
She likes the dress as well but the waistline on that is a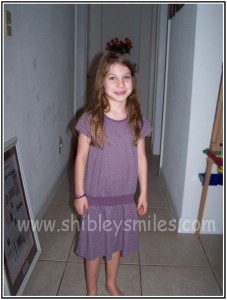 little low, I guess I purchased a size to big and the fabric on the waist line seems to bother her a little. The quality of both pieces of clothing is excellent, both a nice weight.  I hate when you spend money on a piece of clothing only to receive it and the material is light and cheap. This is not the case with the clothing at Tea Collection.  The clothes definitely have a uniqueness to them. That is one of the things I like about Tea Collection.  I'm not going to see every kid at school wearing the same outfit.
Pros: These are designer clothes that are unique and of excellent quality. Shipping is quick and $8 on all orders unless you purchase $150 in which it is free.  So the more you order the better the deal.  The clothing designs change often as new collections are added again offering a uniqueness to your child's closet. Items on sale are a decent price. The clothing is sized appropriately.
Cons: The prices are a little steep when not on sale, at least for me. The jeans above were $39 which is more then I usually spend on a pair of jeans for myself.  I would love to see more choices in each clothing category.
Tea Collection is offering a $50 gift card to one lucky reader so you can experience the collection yourself.
************$50 Gift Card from Tea Collection***********
To enter to win: Please visit Tea Collection and tell me the name of one item that you may want to purchase with your $50 gift card should you win.
After you make the mandatory entry above, you will receive one entry for each item below (unless otherwise indicated). Just a reminder that the mandatory entry must be met for all other entries to be valid. Please leave a separate comment for each entry.
*1 Extra Entry if you like Tea Collection on Facebook
*1 Extra Entry (each)
if you follow Shibley Smiles via Google Connect, on Facebook , or subscribe and verify via email, (
leave email
)
*1 Extra Entry
(each)
if you follow Shibley Smiles and  Tea Collection on Twitter. (
leave Twitter name
)
*1 Extra Entry (each up to 3) if you stumble a NON-Giveaway post, please let me know which post(s) you stumbled.
*1 Extra Entry (each) if you share this post on Facebook (you may use button at bottom of post)
*1 Extra Entry (daily)
if you tweet the following message or use tweet button at bottom of post. (
leave link to tweet
).
#Win a $50 Gift Card from @teacollection and @shibleysmiles #giveaway https://www.shibleysmiles.com/?p=1881
*2 Extra Entry if you post my button on your sidebar or blog roll (leave link-must be my NEW button)
*2 Extra Entry if you blog about this giveaway (leave link to post)
Giveaway will end on March 19th  at 11:59 pm EST. Open to US Only. Please make sure your email address is public on your profile or leave with your comments so I can contact you should you win. The winner will be chosen by "And the Winner is" plug-in  and announced here as well as emailed and will have 48 hours to respond.
Thank you and Good Luck!
Disclaimer: I received the above product to review. These are my honest opinions, the receiving of this product in no way swayed that opinion. Thank you to Tea Collection for providing the prize above for one of my readers. You may read more of my disclosure here.
If you have a product you would like me to review please contact me at colleen[@]shibleysmiles[dot]com