The sports photo shirts at Three60 Gear are one of a kind! When I showed the shirts to my youngest son (Lefty/Nicky) there was no doubt he wanted one. Already a huge sports fan Nick is my "look at me" kid.  He loves neon shoes, bright pink clothes, and anything unique and unusual.  Having never seen a full photo shirt like those at Three60 Gear he was hooked immediately.
Three60 Gear currently sells full sports photo shirts with photos from the MLB and NBA.  You can usually find a shirt by any team just not every player.  Nick was hoping for a Carlos Beltran of the NY Mets but settled for David Wright (his dad's favorite player.) Buddy managed to get his first pick which was Derek Jeter of the New York Yankees.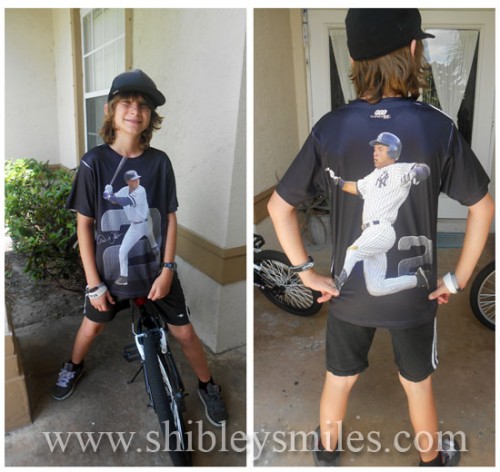 Your one of a kind Three60 Gear™ original has been created by hand using vivid action photos. The performance fabric has wicking and anti-microbial properties and is dye sublimated resulting in white areas near seams, creases or folds. These are marks of the authentic handcrafted process. Search the serial number on each product to learn the details of every image.
Moisture Wicking
* Quick Dry
* Improves Comfort
Anti-microbial
* All Day Odor Control
* Keeps Fabric Fresh
My boys both love their Three60 Gear shirts.  Nick loves the look of his and thinks he looks "cool". Buddy is very particular regarding material of shirts and he LOVES how soft his shirt feels.  He also said the material is great for outdoor play because it is much "cooler" (as in temperature) then his other t-shirts.
I've noticed the boys have gotten many questions regarding them when their friends are over hanging out.  Boys seem to be very intrigued with the shirts. My husband and I noticed a rack full of Three60 Gear shirts in the Dallas airport, during our 7 hour delay in which we pretty much ended up touring the whole terminal. I suspect that I will see them more and more as people start to notice them. They really are fun and unique!
Both of the shirts have been washed SEVERAL times. I probably wash both shirts at least twice a week. As soon as the shirts are washed and out of the dryer they are worn the next day and thrown back into the laundry room. I'm not even sure these shirts have spent more then 5 minutes on a hanger, that is how much my boys love wearing them. You wouldn't know by looking at them that they have been washed as much as they have. The color doesn't seem to be fading at all. I love them because they do seem to keep the boys cooler when out in the sweltering Florida sun and they do not wrinkle in the dryer, which is always a HUGE plus in my book.
Three60 Gear is currently offering free shipping on shirts as well as their first very discount!
Receive 25% off shopping cart total by entering code below. Customers will receive free shipping if by ground, but can upgrade shipping if you choose. The 25% will not deduct from expedited shipping. You can order as many as they like.
Fathers Day will run from 6/9/2011 through 6/19/2011 with code DADS2011
Allstar Game will from 6/20/2011 through 7/12/2011 with code ALLSTAR2011
Shibley Smiles Opinions:
Price: The price of the Three60 Gear shirts are $54.99 for adults and $49.99 for youth.  We feel this is an acceptable price and seems comparable to other sports apparel and would not expect to find the shirts for less.  With the free shipping option at Three60 Gear it makes the price even more attractive.
Good for Ages: Shibley Smiles feels the shirt is age appropriate for any sports fan. The age restriction on this product is simply restricted to the sizes available.  Both Shibley Smiles boys ages 13 and 11 enjoy their Three60 Gear shirts.
Quality: We rate the quality of these shirts as Excellent. Excellent in our definition means no improvements are needed regarding the product.
Recommendation: We definitely recommend Three60 Gear shirts for any sports fan. They would make a fun and unique gift.

Additional Information: Our only recommendations for Three60 Gear is more options regarding players and hopefully when the NFL season begins they will introduce NFL shirts as well.
One winner from entries from Shibley Smiles as well as one winner from  Deals R Here will win their own Three60 Gear shirt. So that is two chances to win! To increase your chances of winning you will want to enter here as well as at Deals R Here.

To enter to win: Please visit Three60 Gear and tell me which shirt is your favorite.
After you make the mandatory entry above, you will receive one entry for each item below (unless otherwise indicated). Please leave a separate comment for each entry.
*if you "like" Three60 Gear on

Facbook

* if you comment on a non giveaway post – 1 entry for each comment limit of 3

*

if you tweet this giveaway (leave link to tweet) – 1 daily
#Win a @Three60Gear full sports photo shirt ARV $55 from @shibleysmiles #giveaway https://www.shibleysmiles.com/?p=5597
See Shibley Smiles Official Rules. Giveaway will end on July 2nd at 11:59 pm EST. Open to US only.

Thank you and Good Luck!
---
Disclaimer: I received the above product(s) at no cost to me by the company or representing PR agency. Opinions are my own and NOT influenced by monetary compensation. You may read more of my disclosure here.
---