Time for another edition of 5 Question Friday!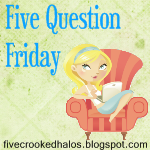 I am so tired tonight, I'm going to make this short and sweet and answer the questions and get my butt in bed!
Do you ever wonder where the 5 Questions on Friday come from? Well wonder no more, head on over to My Little Life each Thursday evening for a sneak peak at the questions and start your own 5 Question Friday Post.
1. What do you listen to while driving?
I usually listen to an audiobook or WILD 95.5 morning talk show
2. What is your least favorite thing about Fall?
I don't know that I have a least favorite thing as it is a welcome change from the humidity.
3. What does your dream house look like, inside and out?
Large modern house with TONS of windows (that someone else will wash for me) on either a beach or golf course. I guess a house with lots of windows would be better on a beach, may not be the best for a golf course LOL. It would have at least 5 bedrooms one for each of us and at least one guess room. I den for my husband, a workout room, game room, and huge kitchen!


4. Would you ever own a minivan?
Sure, I need something now with more room. I would love a fully loaded one though.
5. Do you wash new clothes before wearing them?
Sometimes, it really just depends on what it is. I try to most of the time.