As an Amazon Associate I earn from qualifying purchases.


I'm not a seasoned traveler by any means, in fact except for our pending trip to LA to watch the Biggest Loser the furthest west I've been is Chicago. However despite my lack of extensive travel experience each time I've gone I've carried with me a few pieces of luggage. Thankfully mine has never been lost and hopefully I won't have to ever experience such a thing.  One of the things I find annoying is checking in your bags and having to stand their in line rushing to fill out the 3 or 4 paper luggage tags that can easily part from your bag during travel leaving you standing at the conveyor belt empty handed and wondering if you will be reunited.  This is where YourBagTag™  comes to the rescue.
With these adorable luggage tags no longer do you have to wait to fill in the vital information that your luggage needs should it take it's own side trip and end up in a separate destination from it's owner.  No more keeping your fingers crossed that the information stays with your luggage.  These fashionable and sturdy luggage tags allow you to have your luggage ready by the time you hit the check in line, and ensure the information needed should your luggage gets lost stays where it should, with your luggage.
One of my YourBagTag's that I chose was this pink luggage tag with a pink and black polka dotted ribbon strap. You can see here that each bag tag comes with a card to fill in your name, address, phone, and email and tucks in nicely to a pocket that is held closed by sturdy velcro.  This is much better then the paper tags they provide at the airports that are literally held together by a string. My favorite feature here is the ability to have your luggage, bagged, tagged, and ready when you get to the airport.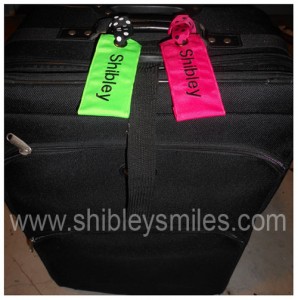 What I was most impressed with when my YourBagTag™ arrived is the size of the tags and the quality of the fabric and how well the tag is put together. The embroidery on the tag is stitched beautifully. The luggage tag well definitely be able to stand the test of time.  What use is having a custom made luggage tag that is going to fall apart after a couple of trips.  That is DEFINITELY not going to happen with these tags.   In addition to the practical uses of the tags I LOVE the style and colors  I was able to chose from when placing my order.  I really felt the hot pink and neon green would stand out against my black luggage. Now why might you ask do I want it to contrast instead of match?
Have you ever stood there next to that conveyor belt and watched someone pull  your off your luggage? Or maybe you have grabbed  luggage only to find upon further inspection that it is not yours. I'm not going to miss my black luggage with a neon pink or green tag that plainly says Shibley on it.  I find this an excellent benefit of a YourBagTag™  luggage tag.
Honey has begged for her own bag tag to add to her backpack.  However when I placed my order I was thinking "luggage" as in traveling and didn't think about getting one with her name on it so she could tag her backpack for Kindergarten next year.  I just may have to do that anyway.  At $12 a tag it is not a bad price to pay for the security of knowing your luggage or backpack will at least eventually make its way home if it gets lost.
YourBagTag™ sells several different styles of luggage tags. In addition to the ribbon styled tags like the ones here you can purchase luggage tags with a metal ring or metal clip.  You can turn your luggage tag into a craft product with your child to get them excited about a pending trip by purchasing the  "create your own" tags and use puffy paint to add your name, maybe add a little heart or flower to give it your own personal flair.  In addition to luggage tags you will also fine in the online store luggage scales, SCUBA products, personalized travel accessories and travel blankets, as well as zipper pulls.
Right now you can get 10% off your order at YourBagTag™ by using this coupon code at checkout when you place your order: BR2011 (expires 5/31/2011)

One lucky winner will receive three custom luggage tags from YourBagTag™
***********3 Bag Tags from YourBagTag™***********
To enter to win: Tell me where you would love to take YourBagTag™ if  you could visit anywhere in the world.
After you make the mandatory entry above, you will receive one entry for each item below (unless otherwise indicated). Please leave a separate comment for each entry.
*if tell me about a comical traveling incident you may have had – 3 entries

*if you visit

YourBagTag

and tell me which luggage tag or product is your favorite

* if you share this post on Facebook

*

if you tweet this giveaway (leave link to tweet) – 1 daily
#Win 3 Custom Made Luggage Tags from #YourBagTag and @shibleysmiles #giveaway https://www.shibleysmiles.com/?p=4099



See Official Rules. Giveaway will end on May 18th at 11:59 pm EST. Open to US Only.
Thank you and Good Luck!
---
Disclaimer: I received the above product(s) at no cost to me by the company or representing PR agency. Opinions are my own and NOT influenced by monetary compensation. You may read more of my disclosure here.
---