As an Amazon Associate I earn from qualifying purchases.


You can usually find a survey of just about anything. I actually found this one conducted by Walmart to be rather interested and entertaining: Walmart Taling Holiday Toys Survey
Walmart's Talking Holiday Toys Survey Reveals That Kids Will Do Almost Anything for Their Holiday Toys…Except Eat Spinach
When asked what kids would be willing to do to get the gifts they wanted.
Kids are willing to do almost anything to get the toys they want for Christmas according to Walmart's Talking Holiday Toys Survey, which found that 68 percent of kids said they would clean their rooms daily for a year, while 84 percent would work hard and give up playtime. But every child has limits; only 23 percent of kids would eat spinach for a year to get their holiday toys. The Walmart–commissioned survey also found that mom and dad favor educational toys and are focused on price.
The survey was interested hitting on topics like what kids want for Christmas versus what Parents wish they wanted or were more interested in purchasing (we all know we are not always on the same level with the kids wants). Also turns out that kids say the best way to get what they want is the dreaded "Nagging". I have to say my kids are GREAT at this. It seriously drives me crazy.
I decided to do my own poll with some fun questions. I conducted it on both my personal and Facebook fan page.
Who is more excited about Christmas you or your children?
Results: 57% of the parents said they were more excited then the kids, 35% said the kids were more excited, and 8% thought both parents and kids were equally excited.
Did your child peek at their Christmas gifts? Did you peek at your gifts when you were young?
Results: While 33% of the parents thought their children had peeked and 67% said no they had not. 88% of the parents admitted to peeking when they were young and 12% did not or were unable.
What is at the top of your child's Christmas list this year? What would you like to be at the top of their list?
Results: Overall parents wanted to get their children what they wanted. Some items at the top of children's Christmas list were: Lego's, Kindle Fire, Furby, and Video Games. Parents wanted to get: telescope, Kindle's, Furby's, clothing, and books.
This was a really fun poll and I encourage you to check out the Walmart Taling Holiday Toys Survey yourself and check out the results for yourself.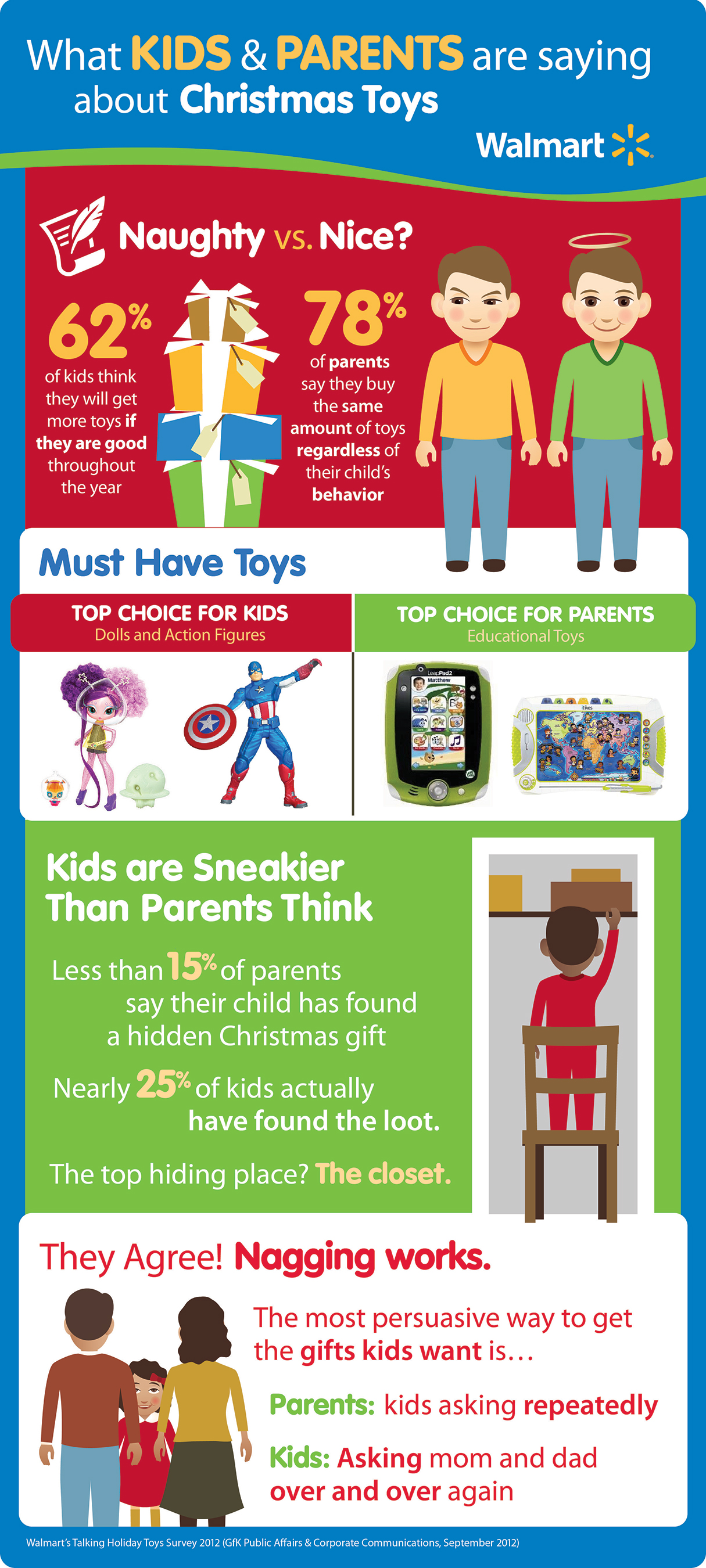 ---
Disclaimer: I received a gift card however all opinions are my own. You may read more of my disclosure here.
---