Just recently myself I began using a waterpik on my dentist's recommendation.  I found that I really liked it a lot.  My dentist was very impressed at my next visit regarding the shape of my gums.  I currently go to the dentist every 4 months due to my gums, so to hear that I was very pleased.
Recently my youngest son if you remember just got braces put on.  The bad part about braces is that they make it even harder for you to take care of your teeth.  My son was told to be especially careful with his teeth care.  I began letting him  use my waterpik.  However we were not very consistent with it because he had to remember to come to my bathroom to use it.  Also we had to change the waterpik nozzle each time he used it because I used the higher pressured one.
I was debating about getting him his own when I got the chance to review the Waterpick Waterflosser for Kids.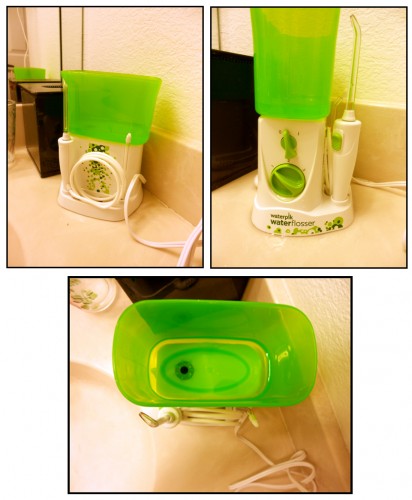 This children's waterpik turned out to be perfect for our needs.  The unit I have is not a counter top unit and much bulkier to handle.  This children's waterflosser is perfect for the smaller hands of children.  Even my daughter enjoys using it.  It is very easy to use.  You place the green basin onto the unit and push it into place.  From their you fill the basin with water using a cup.  It is best to make sure the waterpik is sitting in it's cradle so water does not leak out.  It is also best to make sure the waterpik is in your mouth when you turn it on unless you intend on dosing  your mirror and bathroom walls in water.
The best part is the ability to switch between three different pressure levels.  My son started at level 3 (the most pressure) and screamed saying it really hurt his teeth. Of course he did this the day after he had gotten his braces tightened which probably wasn't the best time to try it out.  He played with the settings and told me that level 2 was a perfect level for him.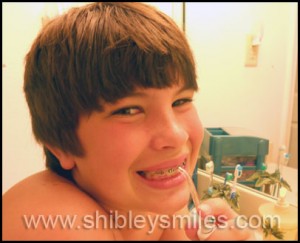 Don't think that only children that have braces could benefit from a waterpik. Now that I've  used one myself I think they are great in helping your children develop good oral health care.
"Let's face it, most people simply don't like to floss, and unfortunately kids floss even less than adults," says Jay McCulloch, Vice President of Marketing for Oral Care Products, at Water Pik, Inc. "Our new Kids model provides a more effective alternative to traditional floss, and because it's fun and easy, kids will actually use it."

The Water Flosser For Kids is uniquely designed to accommodate smaller hands – ideal for ages six to twelve. It includes two tips – one Classic Jet Tip and one Orthodontic Tip – as well as an extra safe, kid-proof electrical design, three pressure settings, and compact size for easy storage. The unit also comes with 20 removable cling decals in colorful designs that kids can use to customize their unit.
Right now you can get $5 off a Children's Waterpik Waterflosser with this printable coupon.
One reader will win their own Waterpik Waterflosser for Kids
***********Waterpik Waterflosser for Kids***********
To enter to win: Tell me one tip regarding how you are developing good oral health care with your children.
After you make the mandatory entry above, you will receive one entry for each item below (unless otherwise indicated). Please leave a separate comment for each entry.
* if you follow

Shibley Smiles

and on Twitter – 1 each

* if you share this post on Facebook

*

if you tweet this giveaway (leave link to tweet) – 1 daily
#Win Waterpik Waterflosser for Kids from @shibleysmiles #giveaway https://www.shibleysmiles.com/?p=4239



See Official Rules. Giveaway will end on May 22nd at 11:59 pm EST. Open to US Only.
Thank you and Good Luck!
---
Disclaimer: I received the above product(s) at no cost to me by the company or representing PR agency. Opinions are my own and NOT influenced by monetary compensation. You may read more of my disclosure here.
---