As an Amazon Associate I earn from qualifying purchases.



I will admit over the years I have not done that well at teaching my children things they need to know when one day they will be living on their own. It has not been intentional I just find I would clean up behind them without even thinking about it. It is something that has always driven my husband crazy. He tells me time and time again that the children need to know how to take care of themselves. I do not disagree at all and therefore we have implemented a few things this school year.
We have decided that the children need to learn to do laundry properly. While I had only expected giving this chore to my two boys my daughter insisted that I teach her to do her own as well. So now each child has their own laundry basket in their bedroom and their own laundry day Wed-Fri. On their laundry day they sort the whites from colors and launder the colored clothing. They have learned how to use the fabric softener, refill the detergent bin, switch the clothes, and fold. The folding and hanging still needs a little more attention but it is a start.
Besides laundry each week one of the boys is to clean their bathroom. I am showing each one how to scrub the toilet, tub, and sink. As well as how to clean the shower doors and mirror. I think teaching your children how to clean properly is an important job of a parent. Unless you want to visit their home and cringe each time you step inside.
Before I started this new cleaning regimen one chore the kids always had was cleaning their own rooms. I found when they were younger and the mess got too big it was too overwhelming and they could not handle the job on their own. So what I did was teach them how to tackle the job in an organized manner. I would give them simple task. First pick up the trash, pick up your clothes, make your bed and pick up blankets and stuffed animals, etc. With little tasks and goals the room did not seem like such a big task.
My daughter LOVES to clean with me. She loves to mop, clean the bathrooms, laundry, etc. I am planning on tapping into that as long as I can because I am sure one day she will not feel the same way.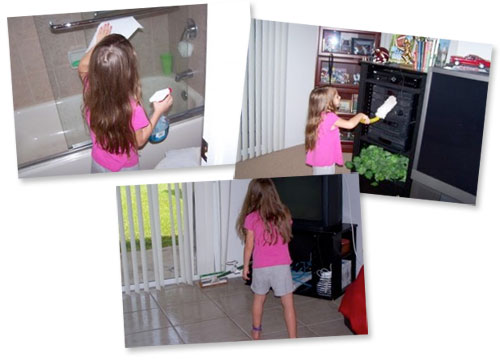 I don't know about you but despite the help from the children I would still love to have someone clean my house for me, it would definitely free up some much needed time. Today you have the chance of winning just that chance. See below for a chance to win a house cleaner for a day and $100 in free products form GreatCleaners.com
Want to hand over cleaning to the experts? Tell us how you have taught and encouraged your kids to clean and be entered to win one of two prizes!
First Prize: House Cleaner for a day plus $100 in product from GreatCleaners.com.
Second Prize: A Copy of the Book Over 100 Helpful Household Hints
With GreatCleaners.comClean Club, you'll never have to shop for cleaning products again. With the simplicity of automatic shipments that fit your schedule and free shipping on every order, plus 25% off your first order, you'll never have to be without your favorite, essential cleaning products. Click here to join the Clean Club today!
This is a sponsored conversation written by me on behalf of GreatCleaners. The opinions expressed by me do not necessarily reflect the view of the Arm & Hammer Brand.