As an Amazon Associate I earn from qualifying purchases.


This post brought to you by Zenni Optical. All opinions are 100% mine.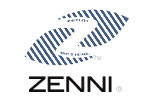 Glasses are a common necessity for many. I myself have worn them daily at times. When I was young around college age I started to get headaches and things began to get a little blurry. For the first time I visited an eye doctor. It turned out he felt I needed eyeglasses. The day I got my first pair I put them on and walked outside and everything was so crisp and bright.
Some how as I aged and sometimes chose not to wear my glasses my eye sight slightly improved. I no longer wear glasses on a regular basis, however I do still own to pair that I wear on occasion. Once in a while in the movie theaters or while driving I find the glasses really help me see just a little clearer.
With so many people wearing glasses it was only time before they became a fashion statement. However if you wanted fun and trendy glasses you had to pay the high trend prices. Zenni Optical sells cheap eyeglasses yet still fashionable.

I just love those rainbow glasses they are so funky. The great thing is with the savings from Zenni Optical you can purchase more important things like an outfit to match your new glasses. Or possibly a second pair so you don't have to wear the same old glasses day in and day out. The point is you SAVE money.
Right now during these hard economic times saving money where you can is important. It is one thing to cut cost by giving up luxuries but it is so much more rewarding when you find a great deal on essentials. Zenni optical is aware that saving money is important to you and that is why they keep the cost to you down.
Using the latest in modern materials, manufacturing and marketing systems we bring our product direct from our factories to you. With no "middlemen", no retail-space overhead, and practically no advertising budget(we leave it to you, our satisfied customers to spread the word about Zenni Optical), we do not pay for or sell expensive, or even inexpensive brand name frames, but only our own manufactured brand ZENNI.